Posted On Nov 24 2018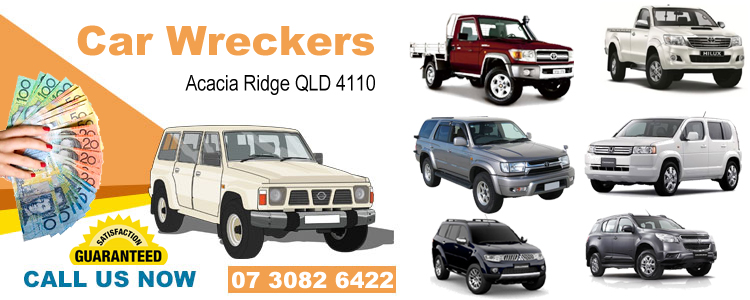 If you search for Car Wrecker Acacia Ridge, the chances are that you will find our name amongst the top car wrecking company. We are a very popular and reputable company that buys cars for cash in and around the Brisbane area. So, if you ever get stuck with a car you no longer need or want feel free to reach out to us, and we will give you the best possible offer on your vehicle.
#1 Car Wreckers in Acacia Ridge QLD 4110
We, also known as Car Wreckers Acacia Ridge, offer the most efficient car wrecking services. Our process is very easy to follow. All you need to do is contact us with vehicle details like the year of manufacturing, the make, and the model. This will help us give you instant cash for cars online quote. If you agree with the quote, we conduct a physical evaluation of your car. As per the findings of the evaluation, we make you the final offer. Once you accept the offer we arrange for car removal and make instant payment on the same day.
So, whether you are looking to earn cash for used cars or Cash For 4×4 Sunnybank, we will help you get the best out of your car waste.
Car Recycling Acacia Ridge
Recycle means reusing the waste productively. And if you observe, automobiles are full of recyclable material. Right from the coolant liquid to its metal body and everything in between. Car Recycling Acacia Ridge is the latest trend, and we are right in the middle of it.
Car recycling is also the best way to get rid of unwanted vehicles without damaging the environment. As a responsible car wrecker Brisbane, we choose to reuse, resell or recycle the vehicle rather than just disposing of them in landfills. So, if you are also keen to contribute towards nature conservation while you sell old cars for cash, contact us.
Cash For Cars Acacia Ridge
If you are looking for the best Cash For Cars Acacia Ridge offer than contacting us is the right thing to do. We buy cars and pay the highest possible price for your car.
Whether your car is Japanese, American or European, we are interested. Additionally, we are not bias towards any particular car model. We buy everything from cars, vans, UTEs, SUVs, to bus, trucks, campervans, and 4wds.
Furthermore, even the condition of the car doesn't matter to us. We are known to pay cash for damaged cars, cash for unwanted cars, and cash for accidental cars besides paying top cash for junk cars. We know that even a wrecked car can be valuable for recycling and therefore, we never cut corners while buying a vehicle. So, if you want a genuine and hassle-free Cash For Cars Sunnybank deals, you now know where to go.
Car Removals Acacia Ridge
Dealing with cars for more than two decades has made us an expert Car Removals Acacia Ridge. Vehicles are prone to accidents if not driven properly. Same is the case while removing a vehicle. Therefore, we provide on-going training to our Car Removals Sunnybank teams. This ensures that they are able to handle a car removal no matter the size or the shape of the vehicle. We also train them in first-aid. Thus, in case an unfortunate incident happens, our team is prepared for damage control.
Because of the equipment and the complexity of car removal process, the car removal services are often very expensive. It is in fact, one of the major block people come across while selling their car privately. We, conversely aim to make the process as simple and cost-free as possible. We, therefore, provide free car removal services to all our customers. So, if you ever want to sell junk cars for cash or scrap cars for cash without worrying about additional cost, contact us and we will set the process in motion.
Junk Car Buyer Acacia Ridge
People often feel that because they are stuck in a junk car, they will not be able to get rid of it at least profitable. However, we, the Junk Car Buyer Acacia Ridge assure you that no vehicle is worthless. Whatever the condition of the car, it will still be able to fetch you some cash in exchange. Contact a genuine Car Buyer Sunnybank like us, who will pay you as per the current market rate irrespective of the condition of the car.
Sell Your Trucks Acacia Ridge
We buy cars for cash including trucks and buses. So, if you own a bus and want to Sell Your Trucks Acacia Ridge, we are there for you. We buy all models and version of trucks. Whether the truck is old, usable, damaged or wrecked, it doesn't matter. We will buy it from you. In fact, we encourage you to decide on I want to Sell My Truck for Cash, rather than holding onto a useless truck that not only occupies the space but also creates pollution.