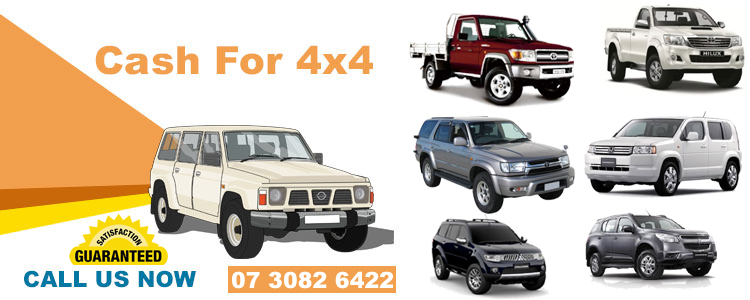 Cash For 4×4 & 4WD
4×4 & 4wds is a good vehicle to have. However it is a large vehicle, and if you have no further use for it, it is better to get rid of it rather than letting it occupy the space. We at SunnyBank Car wreckers pay top cash for your unwanted 4wds.
4×4 & 4wd Recycling SunnyBank
With the increase in pollution, recycling is becoming more and more popular. And a vehicle is the source of all things recyclable. We at Sunnybank, believe in nurturing the environment by recycling the vehicle and its part. With the backing of twenty years of experience, we are the experts in the field of car wrecking and car recycling, especially 4×4 & 4wd Recycling SunnyBank.
Prior to recycling, we take steps to drain out the liquids and other non-recyclable material from the vehicle. This not only acts as a safety measure but also simplifies the process of recycling the vehicle. We separate the non-recyclable items and remove the parts that are suitable for reuse.
Post this we put the metal body through the crusher to get ball size metal chunks. These chunks are now ready for recycling. Recycled metal is used in numerous industries including the automobile industry.
Thus, Sunny Bank Auto Wreckers not only recycle but also reduce the burden on the natural resources.
Cash For Cars SunnyBank
What happens to an old car? Usually, it sits around occupying the space and marring the view of your porch or you let it go without getting much in return. However, with Sunnybank car wreckers it need not be the case. You car earn topmost Cash For Cars Sunnybank for any vehicle that you no longer need or want.
We buy all model and make of vehicles. We specialize in dealing with 4wds. The most common models of 4x4s that we deal in include 4×4 jeep, 4×4 camper van, 4×4 ford ranger, 4×4 island, 4×4 jaguar, 4×4 bus, 4×4 ferrari, 4×4 chevy trucks, 4×4 honda, 4×4 hummer, 4×4 iceland, 4×4 isuzu, and 4×4 camper truck.
4×4 & 4wd Removals SunnyBank
One of the most tedious task and an expensive task is arranging for car removal when you are ready to get rid of your car. Many times the cost of car removal exceeds the value of the car and you end up incurring unnecessary cost.
However, we understand this and therefore, offer free car removal services for any kinds of vehicles. Our staffs are expert in conducting 4×4 & 4wd Removals SunnyBank, a popular vehicle in the Australian Market. We not only remove the vehicle but also guarantee good cash for your car.
So, if you have 4×4 cars for sale, contact Car Removals Sunnybank without hesitation and you will be surprised to know how much money the unwanted car can make with the right buyer.
4×4 & 4wd Wreckers SunnyBank
As a famous 4×4 & 4wd Wreckers SunnyBank, we come across vehicles in various conditions. As per our policy we try and reuse maximum items and materials from the unwanted vehicle before opting for recycling. The reason being, a quality part that is reusable saves lots of money, raw materials, and energy and power consumption.
This happens because when you reuse a product, the need to manufacture it from scratch reduces.
Therefore, when a vehicle comes to us, we take into account its condition and probability of reusing the car as a whole or even the parts of it. The reusable car is ideal for pre-owned market and the reusable parts are good for the used auto part industry.
So, whether you are ready to wreck your car, 4wds or a truck, contact us and earn Cash For Trucks Sunnybank.
4×4 & 4wd Buyer SunnyBank
Sunny Bank car wreckers have been in the business of buying cars for over twenty years. We buy all cars without being bias towards the make or the model. Due to our extensive dealings with 4wds, we are also known as the 4×4 & 4wd Buyer SunnyBank. Besides the 4wds, we buy cars, vans, bus, and trucks to name a few.
We also buy all sorts of vehicle make prominent being the American, European and the Japanese make.
Thus, if you ever need a reputable Car Buyer Sunnybank, call us without hesitation and you will not only sell your car in a jiffy but also earn decent cash in exchange for a wrecked vehicle.
Sell My 4×4 & 4wd SunnyBank
People often find it stressful to decide on Sell My 4×4 & 4wd SunnyBank. The main reason being the hassle involved during a sale of the vehicle especially an old or a wrecked one. However, with us by your side, you can be happy with your decision to Sell My Car for Cash SunnyBank. We have a very simple process that needs minimum paperwork. Our turnaround time also is very less once you approach us.
We also take care of important details such paperwork and car removal without charging anything to our clients. Thus, you not only earn money but also save on expensive processes. So, why wait any longer? You can get in touch with us and get the most profitable offer on your unwanted car.
How to get in touch with us

Sunnybank QLD 4109, Australia
Useful Links:
Motor dealer (wrecker) licence – Queensland
Wiki on Sunnybank, Queensland